Crown Molding
Crown molding has always served to clean up the space where your ceiling and walls meet. But many prefer it for its decorative properties as it elevates the room. One neat fact is that crown molding draws your eye up in a room, making the room feel more open as the ceilings are perceived to be taller. Typically, this type of molding is made from wood for its durability and ease of maintenance.
Crown Molding FAQ
What wood is best for ceiling trim?
It is best to use a paint-grade pine if you are looking to paint your trim. If you prefer to stain your trim, there are plenty of hardwoods to choose from such as Ash, Oak, and Walnut. Give us a call and we can let you know what wood is available locally for your project.
What sizes are available in Crown Molding?
Our finger jointed pine is available in 4-1/8 inches, 5-1/4 inches, and 7-1/4 inches.
How does NVT install crown molding?
New Vision Trim measures down to the 1/16th of an inch. No wall or ceiling is perfect, but we can manipulate our product enough to get a very tight joint with our cuts being accurate. Joint gaps average 1/32 to 1/16 of an inch, but in worse cases where the walls and ceilings are very un-level, it can grow to 1/8th of an inch which will be sealed together and filled with grade-A silicone. We also use putty to fill in all nail holes. Each job is then finished by painting or staining the wood.
How long does a crown molding project take?
It will vary depending on the linear footage. Smaller projects (~200-300ft) take about a day and a half, whereas installing an entire house (~800-1000+) takes roughly 7-8 business days. The weather also plays a role in our timing as well.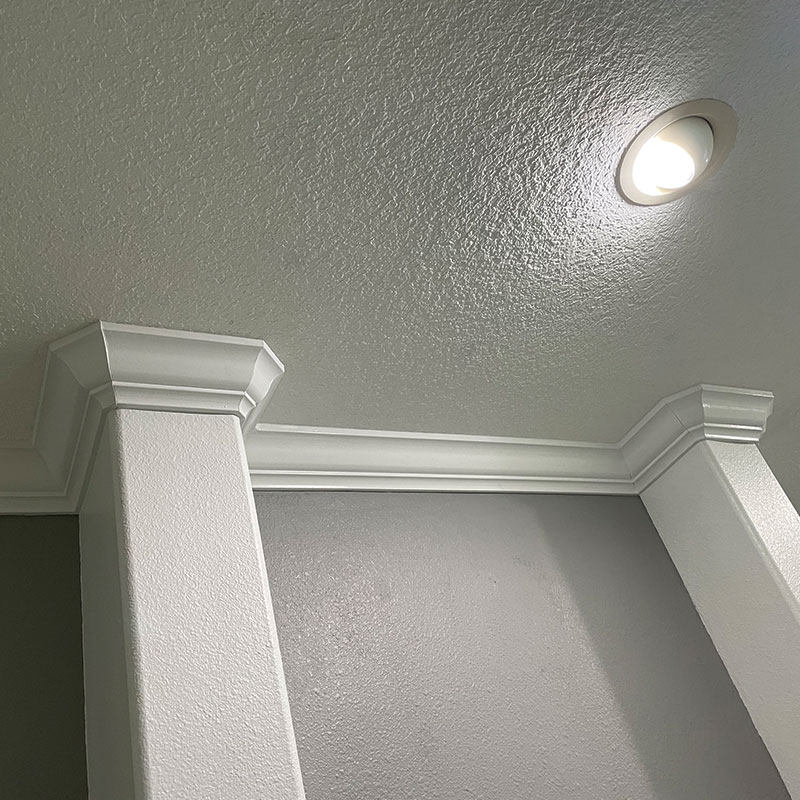 Wainscoting
Wainscoting is a type of wood paneling that is applied to the lower portion of a wall. This type of wall treatment is used in residential homes, office buildings, and even restaurants. Although its main feature is to protect walls from damage. It is most often installed for its modern and fresh look. There are endless possibilities when it comes to design. Regardless of choice, you will add visual interest to your walls.
Learn More
Wainscoting FAQ
Are wall panels the same as wainscoting?
Typically wall panels are decorative surfaces that cover the wall from floor to ceiling. Although wainscoting is a decorative panel, it traditionally only covers the bottom half or three-quarters of a full wall. When used on island walls, such as in a kitchen, this panel would cover the entirety of the vertical surface.
What type of material is used for decorative wall panels?
These wall panels are an amazing way to transform any room by adding color, texture, and depth. There are various materials that can be used like MDF, PVC, glass, and wood. Millwork wall coverings are the most preferred material as it delivers a rigid surface that maintains its beauty. At NVT we recommend pine for its durability.
How high should wainscoting be on a wall?
Typically, this decorative wall trim rises up 3-feet, which should sit right under any light switches. It can go as high or low as you desire. We are here to help you accomplish your desired design. Have a picture of what you want? No problem, we are pleased to accommodate.
Types of Wainscoting?
Traditionally there are (4) four styles that wainscoting is made. They include wall-panel, flat-panel, beaded-panel, and raised-panel wainscoting.
Do outlets affect wainscoting installation?
To put it simply, no they do not. At NVT we use an algorithm to find the spacing between each outlet and wood beam. This allows us to install your wainscoting symmetrically, without running into an outlet.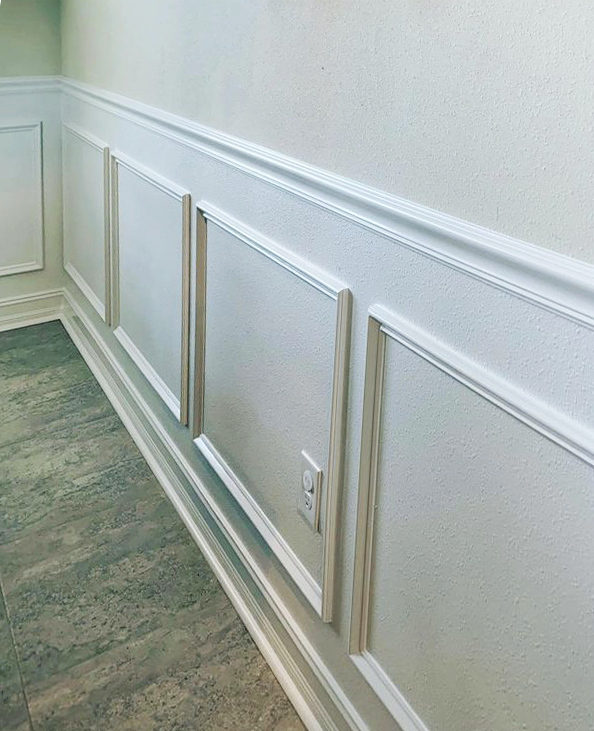 Decorative Wall Molding
Decorative molding sets the style and tone of a room. In many cases, it also acts as a protective surface. Chair rails, for example, prevent a sliding chair from striking the wall. Decorative molding is used on walls, ceilings, and around doors or windows. This decorative trim includes baseboards, chair rails, picture rail, picture frame molding, architrave molding, casings, cabinets, and corbels.
Decorative Molding FAQ
What is the purpose of decorative molding?
Decorative trim molding acts as a visual transition between the major joinery point of a room.
What is the purpose of a picture rail?
This type of decorative molding is 1-2 inches in height and is 7-9 feet off the floor. Doing so allows you to hang pictures or art without having to drive nails or tacks into your wall.
How should a wall with a chair rail be painted?
The answer depends on whether you are going for a traditional or modern feel. In a modern home feel, you will typically paint the wall with one color. As this gives a more updated look. It is also the best color choice if you are looking to sell your home in the future. For those who embrace the more traditional look, the use of 2-colors or tones is the way to go. Make sure to place the darker color on the bottom.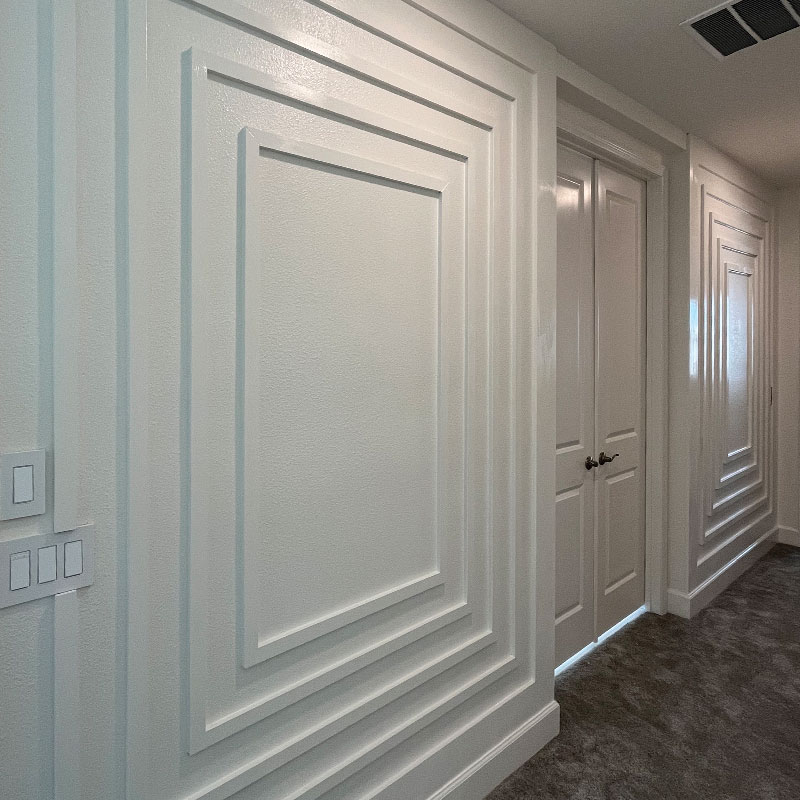 Barn Doors
Barn doors are much more sophisticated today. Enhancements in hardware allows them to complement nearly any décor. Bold patterns and colors are hot trends for interior design. Going with a high-sheen or lacquer will add richness. Whether you are looking for a rustic, contemporary, or modern look, we can create a barn door that will make the statement your home deserves.
Barn Doors FAQ
Are there different styles of barn doors?
These types of doors refer more to the functionality of a sliding door than to any one style. They come in an endless variety of colors and styles. Some of the most popular styles are Chevron, Plank, British Brace, 5-Panel, 3-Panel, Double X and Minimalist.
Where can I use a barn door in my home?
Barn doors are great for spaces that are too tight for traditional doors. They are also great candidates for hallways. You will need enough wall space on one side of the door to completely open.
Can barn doors have handles and latches?
Yes. Handles allow you to slide the door easily. Latches are recommended for areas of your home that require more privacy.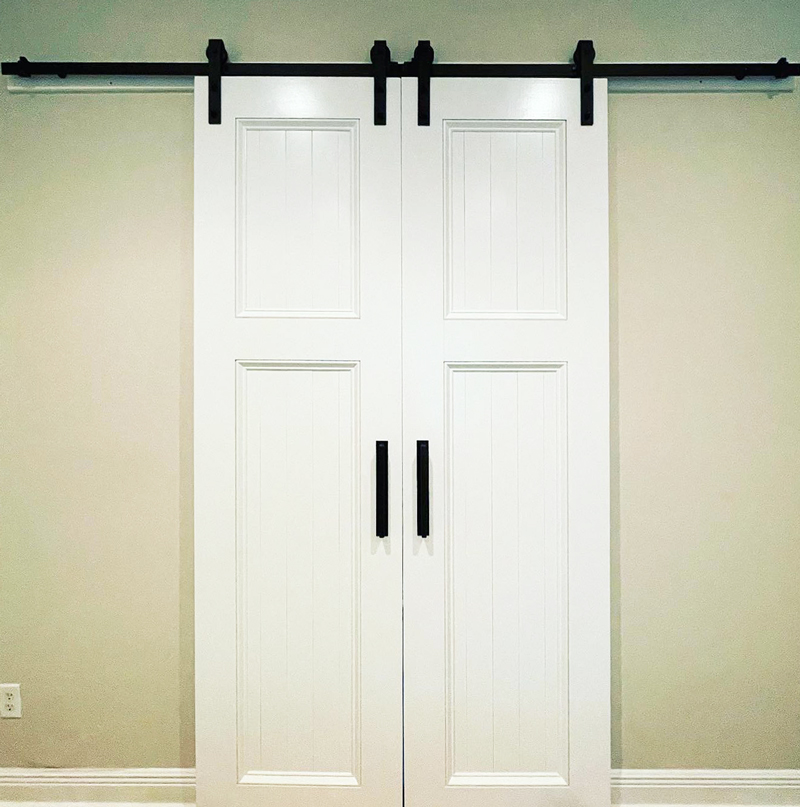 Ceilings
Adding architectural detail to your ceiling literally elevates your space. It draws the eye upward, making the room feel taller and creates an illusion of spaciousness. The ceiling becomes a focal point of the room, introducing drama, elegance, and value to your home.
Ceilings FAQ
What is a coffered ceiling?
Coffered ceilings are created by crisscrossing beams that create geometric patterns, usually squares or rectangles. This creates a grid of recessed spaces on the ceiling. Some like to further decorate these recessed spaces with ornate wood designs, wallpaper, or tin tiles.  
What is a Tray Ceiling?
A tray ceiling features a single recessed surface on a ceiling. It is created using plaster and drywall. We can put wood paneling designs on the surface of the tray ceiling just like any other wall.
What is a Beam Ceiling?
Beam ceilings are created by placing beams along the full length of your ceiling. Made primarily from hardwoods, beams give homes a classic, rustic look. 
Beamed ceilings can be made to fit a range of styles. However, these detailed ceilings can overwhelm a smaller room, so be mindful of where you have these ceilings installed.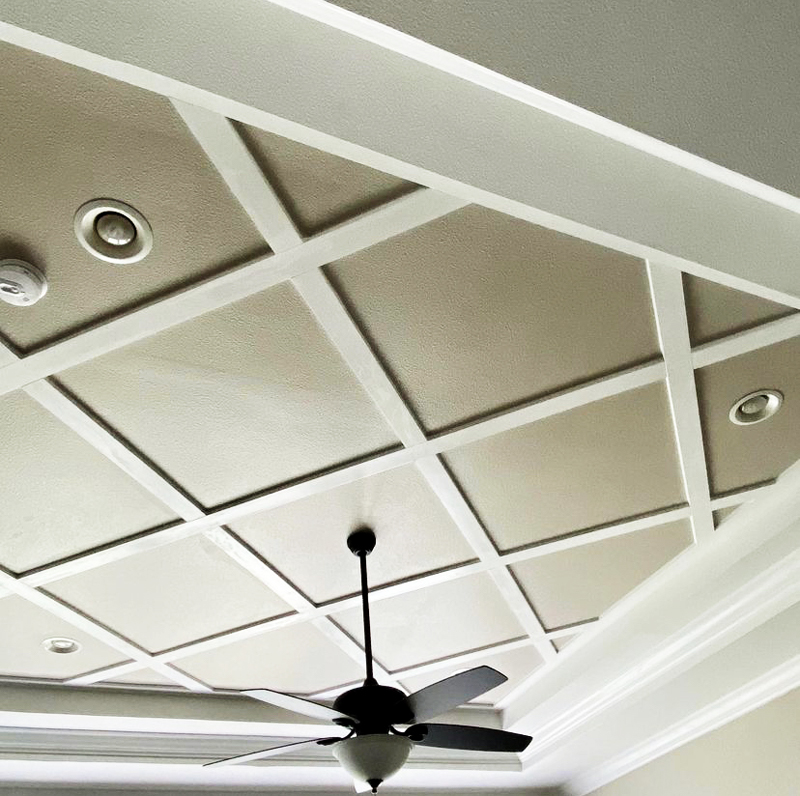 Make a Statement With a Fireplace
Who doesn't love the elegance and ambiance of a fireplace? Fireplaces are an amazing way to add a statement to your room. Our fireplace surrounds and mantels are made from paint grade pine and can accommodate any design.
Decorative Fireplace FAQ
What is the difference between a surround and a mantel on a fireplace?
Mantels or mantle shelves refer to the piece that sits above the fireplace. Although a shelf, it serves a decorative purpose. Fireplace surrounds cover the three open sides of the fireplace under the mantel. Surrounds add depth and texture to the space.
Does the type of fireplace matter?
No. We can trim whatever fireplace you have or are planning to install in line with any fire-hazard clearance requirements.
Does size matter?
Yes. There are fire hazard clearance considerations to keep in mind. For example, the depth of a mantel will dictate how close or far from the fireplace opening it can be placed.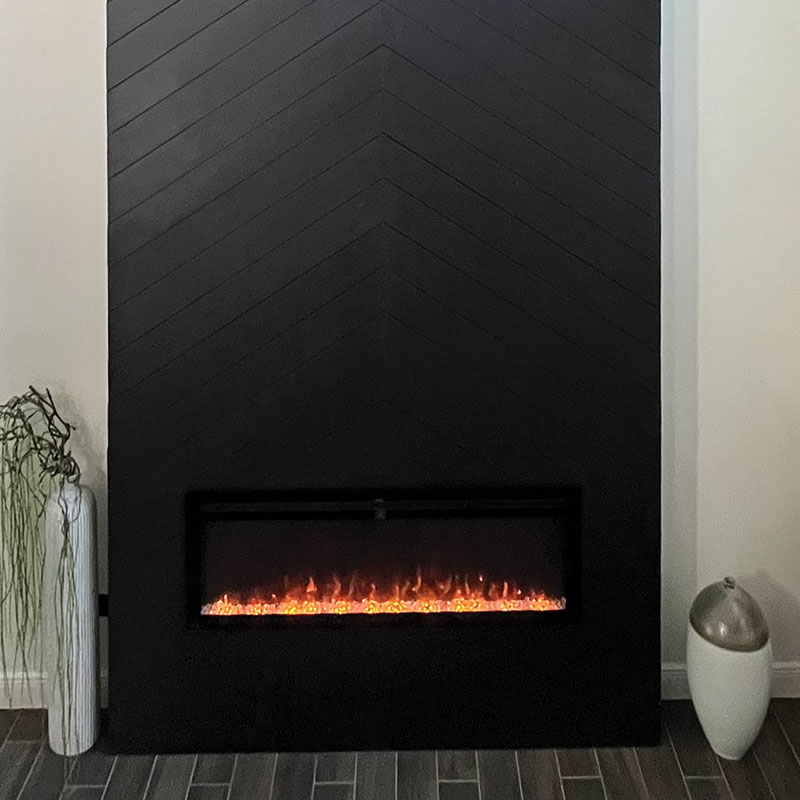 We are excited to work with you!
What type of project do you have in mind?